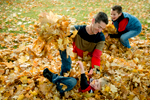 Children and Parenting
Tips for keeping kids healthy.
Giving medicine to kids
Learn how to give medicine the right way, at the right time and in the right amount.
Read more
Teens eat more, cheat more, are meaner after violent video gaming
Playing violent video games may stimulate unhealthy behaviors in teenagers, including aggression, overeating, cheating and stealing, according to a study published in a psychology journal.
Read more
A simple way to help kids control their weight
Children who were served cereal in large bowls asked for, ate and wasted more food than kids with small bowls, a study found.
Read more
Avoiding illness at school
Tips to help your child avoid illnesses, from food poisoning to the flu.
Read more
What is respiratory syncytial virus (RSV)?
RSV is the leading cause of severe respiratory illness in children younger than 2 years.
Read more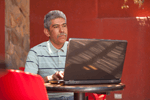 Health News
Recent research findings and health updates.
Antibacterial soaps may harm more than they help
"New data suggest that the risks associated with long-term, daily use of antibacterial soaps may outweigh the benefits," said Colleen Rogers, PhD, an FDA microbiologist.
Read more
Stroke deaths decline in U.S.
"The decline in stroke deaths is one of the greatest public health achievements of the 20th and 21st centuries," said Daniel T. Lackland, DrPH, co-author of a paper in the journal Stroke.
Read more
Traffic deaths rose in 2012 (infographic)
Traffic deaths rose among drivers, passengers, pedestrians and cyclists in 2012, but overall deaths still remain at historic lows.
Read more
Arthritis is No. 1 cause of disability in U.S.
If projections hold, some 67 million American adults will have arthritis by 2030, according to a CDC report.
Read more
1 out of 4 people ignores COPD symptoms
"COPD is the only major chronic disease where deaths are not decreasing," said James Kiley, PhD, director of the Division of Lung Diseases at the National Heart, Lung, and Blood Institute.
Read more