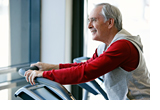 Heart Health
Information on heart attack, stroke and other cardiovascular conditions.
Taking blood thinners safely
If you've been prescribed blood thinners, there are things you need to know in order to stay safe while taking them.
Read more
Stopping stroke: Minutes really do matter, study finds
Getting treatment as little as 15 minutes faster can make a big difference in how a person recovers from stroke.
Read more
Improving seven health measures can cut stroke risk
Blood glucose, cholesterol, blood pressure, weight, exercise, diet and smoking all affect a person's stroke risk, but controlling blood pressure is the most important, according to a study.
Read more
Atrial fibrillation: Taking stroke risk to heart
About 15 to 20 percent of strokes are linked to atrial fibrillation, a condition that affects the heart.
Read more
Overcoming stroke: How rehabilitation helps
Stroke rehabilitation helps people regain strength, movement and independence.
Read more