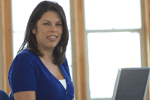 Health News
Recent research findings and health updates.
Giving is more enjoyable than getting, study finds
Spending money on others seems to improve people's satisfaction with their own lives—and that positive feeling is universal across cultures, geographic regions and socioeconomic strata, according to a study.
Read more
Even moderate alcohol use raises risk of dying from cancer
"There is no safe threshold for alcohol and cancer risk," the researchers wrote.
Read more
Report: Nation's hospitals making strides against infections
The likelihood of acquiring certain types of infections while in the hospital continues to decline, thanks to prevention efforts at the nation's health care facilities, a new report from the Centers for Disease Control and Prevention shows.
Read more
For healthy eating, focus on the big picture
With the total diet approach, all foods can fit into your eating plan, as long as you also pay attention to moderation, appropriate portion sizes and physical activity, according to a new position paper from the Academy of Nutrition and Dietetics.
Read more
Will salad make you sick? Not if you follow safe food practices
A recent study found that contaminated leafy greens cause more cases of foodborne illness than any other food. But taking a few safety steps can help you eat these nutritious foods safely.
Read more