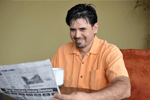 Health News
Recent research findings and health updates.
Spring cleaning can help keep the kitchen safe
"Spring cleaning is a great opportunity to give the kitchen a good food safety check and cleaning," said Karen Ansel, RD, spokeswoman for the Academy of Nutrition and Dietetics.
Read more
Heart-healthy habits cut cancer risk too
People who follow six of the seven habits recommended for heart health cut their cancer risk by 51 percent, according to a study.
Read more
Study looks at why some parents don't get teens vaccinated
Parents who don't keep their kids up-to-date on recommended vaccines often have misconceptions about the need for the vaccines or concerns about vaccine safety, according to a study. This is particularly true for the human papillomavirus (HPV) vaccine.
Read more
Texting, talking and emailing common among U.S. drivers
Drivers in the U.S. are more than three times as likely to be talking on their cellphones while on the road as drivers in the United Kingdom. And they're about twice as likely to be texting or emailing as drivers in Spain.
Read more
Weight gain doesn't take away the heart-healthy benefits of stopping smoking
"Our findings suggest that a modest weight gain, around 5 to 10 pounds, has a negligible effect on the net benefits of quitting smoking," said study co-author Caroline Fox, MD.
Read more