Health News
Recent research findings and health updates.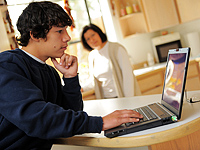 Playing on several sports teams may help teens avoid obesity
Researchers found that teens who played on three or more teams were 27 percent less likely to be overweight and 39 percent less likely to be obese compared with teens who didn't play any team sports.
Read more
Quitting smoking leads to more weight gain than previously thought
However, the benefits of quitting smoking outweigh the risks of gaining a few pounds.
Read more
FDA approves in-home HIV test
The U.S. Food and Drug Administration (FDA) has approved the first over-the-counter, in-home test for detecting human immunodeficiency virus (HIV), the virus that causes AIDS.
Read more
Kids more likely to experiment with drugs, alcohol when school's out
More than 11,000 adolescents aged 12 to 17 try alcohol for the first time on any given day in June or July. Most other months of the year, that number falls in the range of 5,000 to 8,000 first-time drinkers.
Read more
Coffee may lower heart failure risk, but moderation is key
Researchers speculated that regular, moderate coffee drinkers may acquire a tolerance to caffeine, which could decrease their risk of developing high blood pressure. Habitual coffee drinking is also associated with a lower risk of diabetes.
Read more