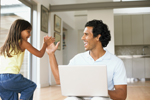 Health News
Recent research findings and health updates.
Injuries from pool chemicals are common and preventable
Don't let a pool-chemical injury keep you from enjoying the water: Learn how to use pool chemicals the right way.
Read more
The perils of poultry: Backyard farmers beware of salmonella risks
Don't kiss that chicken! It might make you sick.
Read more
Fatal five: 2 in 3 Americans die from these 5 causes
"We're losing well over 100,000 people every year in this country from diseases and injuries that could have been easily prevented," said CDC Director Tom Frieden, MD, MPH.
Read more
Antibiotics losing fight against common infections
"Without urgent, coordinated action, the world is headed for a post-antibiotic era, in which common infections and minor injuries which have been treatable for decades can once again kill," said Keiji Fukuda, MD, MPH.
Read more
FDA wants to regulate e-cigarettes, cigars, pipe tobacco
Defining products like e-cigarettes as tobacco products would change where, how and to whom they can be sold.
Read more