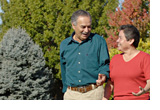 Aging
Health information especially for seniors.
Living with osteoporosis
If you have osteoporosis, you can take steps to protect your bones, reduce your risk for fractures and help ensure that you live an active life.
Read more
Control blood pressure, cut risk for second stroke by half
"It's not enough to control blood pressure some of the time," said Amytis Towfighi, MD, lead author of the study.
Read more
What makes caregivers happy? Doing things that make them happy
Stroke caregivers are happier when they carve out time for activities they enjoy, and their positive mood is good for the family member they are caring for, a study found.
Read more
Older, wiser, sleepier?
Tips for getting the rest you need.
Read more
Depression and seniors
The blues aren't a normal part of growing older.
Read more