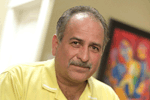 Cancer
Information about cancer types, treatments and prevention strategies.
Grilling with an eye toward good health
Tips for avoiding health hazards when you grill.
Read more
Water pipes aren't a safe alternative to cigarettes, study finds
People who smoke tobacco using water pipes may be inhaling less nicotine and other carcinogens than cigarette smokers, but they're filling their lungs with higher levels of different toxins that put their health at risk.
Read more
A healthy diet can help people avoid cancer
"While cancer can leave us feeling helpless, the good news is, there are measures you can take to prevent the disease," said Ethan Bergman, PhD, RDN, president of the Academy of Nutrition and Dietetics. "Your diet is one of the most important factors under your control."
Read more
Skin shouldn't soak up too much sun
Tips for avoiding melanoma and other types of skin cancer.
Read more
Check your skin for signs of cancer
Skin self-exams are one of the keys to finding skin cancer early, when simple treatment is most likely to be effective.
Read more